Deeper dive
---
The trigger to enter a re-engagement campaign is usually a combination of criteria around time. For example, triggering criteria could be the following:
Candidate hasn't had a new note added in 6 months
Their status is not DNR or placed
Candidate has a valid email address
Create a list in Herefish that looks for candidates following the above criteria (plus any other filters you'd like to use).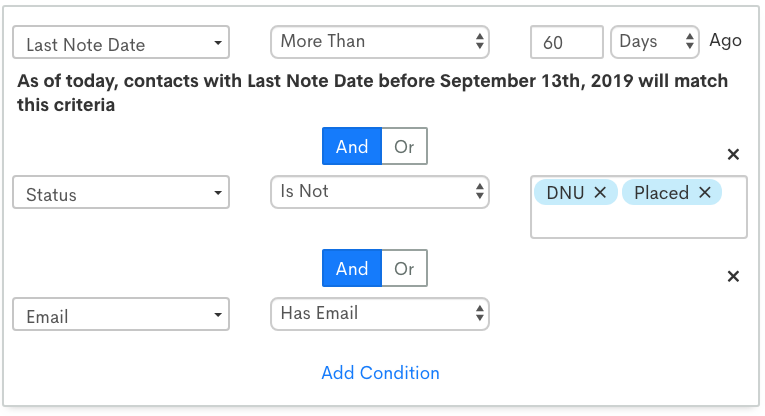 Build the template(s) for your engagement emails. Make sure to pick proven subject lines and content to ensure engagement.
Hi %FIRSTNAME%,

We know how stressful job hunting can be, check out some of our recent opportunities and resources. If you don't see anything that looks right for you, click here to send an updated resume or get in touch with a recruiter directly. We are eager to work together to help you find the match that will take your career to the next level!

%

ARTICLETITLE

%   |   %

SEARCHJOBS

%
  
If you'd like to discuss %TOPIC% in more detail, go ahead and schedule a time for us to chat 

here

!

Sincerely,
%CONTACTOWNERNAME%

Once a candidate triggers the criteria above, they will be sent an email every three weeks and their activity tracked.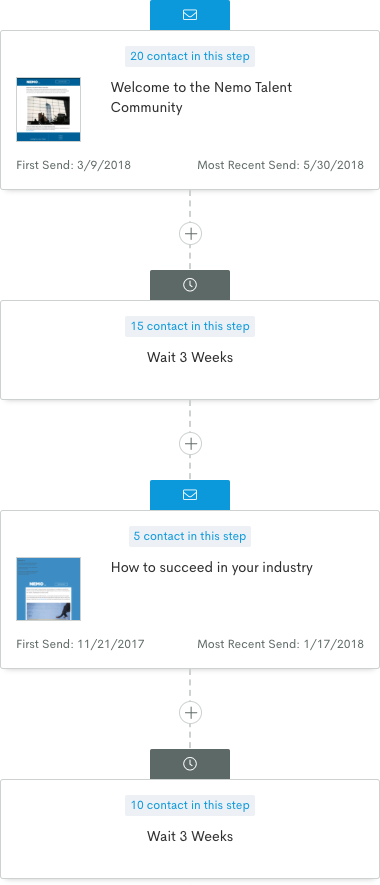 Bonus points
Create email variations for candidate segments or specialties
Send notification to the recruiter when candidate engages
Add a followup task for the recruiter to call the candidate
Add a note to the candidate record, depending on action
Change the status and/or score of the candidate record
Add candidate to segmented list for ongoing job alerts or nurturing campaigns