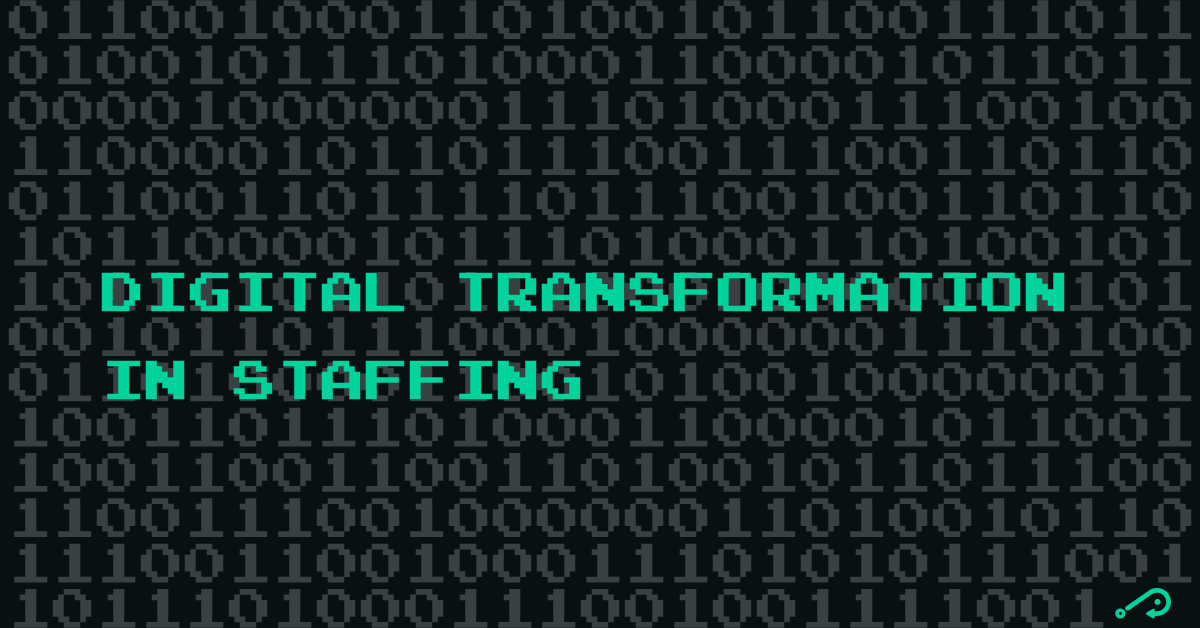 Call us biased, but we believe the staffing industry is on the cusp of massive change.
A big driver of this change is the adoption of technology in modern staffing firms and how this technology is being deployed.
This adoption of digital technology of course has a term. That term, relegated to the most jargon-y of descriptions is called digital transformation.
Salesforce defines digital transformation as:
"…the process of using digital technologies to create new — or modify existing — business processes, culture, and customer experiences to meet changing business and market requirements."
Essentially, it means leveraging software to change the way a business operates.
In the early 2000's and really up until the mid 2010's, business software left a lot to be desired.
Usually designed by a developer, these tools solved problems but didn't make it easy for the masses to adopt. Implementations were clunky and the user experience an afterthought. This was good for consultants, but bad for the businesses that just wanted to run with a solution and reap the benefits quickly.
However, ever since the "Web 2.0" era, the one where the masses started using social networking daily, things have started turning around.
Consumers that used these simple-to-use tools started pining for their business applications to be equally delightful to use. This kicked off a new phase; one we're deep in now.
Rather than a developer creating a tool and designing it in a developer-y way, UX and UI specialists started populating dev teams. This has led to user-centric design that has helped nurture digital transformations across many businesses, including staffing.
And it didn't stop at development; throughout many software businesses, the entire process has changed. It's now easier than ever to purchase, implement and use software.
Historically the staffing industry has lagged behind the B2B market at-large, but over the past 4 years we've seen a shift.
Our space is gaining ground and starting to adopt new tools that automate and simplify the day-to-day; largely due to the ease of use and specificity these tools have to the industry.
Takeaway The evolution of software from big, clunky and hard-to-use tools to simple, customer-centric solutions has helped foster the digital transformation in staffing and other industries.
More than ever, staffing firms are starting to adopt digital technology.
The abundance of solutions has led to firms creating their own tech stack – basically the tools they use every day and how they all interact with one another.
For years, staffing firms have done things the same way: source, submit, interview, place.
While the foundation hasn't changed, the market dynamics have:
Where jobs were emailed to account managers in the past, they can now fly through VMS.
Where job boards were seen as the holy grail for new talent, turns out the ATS is just as good if not better.
Where candidates were seen as commodities, they're now seen as people.
Where candidate experience was seen as an afterthought, it's now seen as a differentiator in a highly competitive market.
Tech has helped firms adjust to these market changes and is only growing in popularity across the industry.
Firms that used to see their ATS as a repository and gloried spreadsheet, are now unlocking its true power by integrating specialty tools that solve their most pressing problems.
Also, internal audiences (users) and external audiences (candidates, contractors, clients) are all benefiting from the tech being deployed. No more overly clunky interfaces for users and no more low-touch, bad experiences for candidates and clients.
Takeaway We're just scratching the surface of what is possible with technology in the staffing space. With changing market conditions, new platforms and products are transforming how firms interact with their external audiences.
So, what's next?
It's a question we can't answer completely, but if the staffing industry follows the trajectory of other industries, then we're just scratching the surface.
An example I like to use, mainly because I've been in the thick of it, is how marketing automation transformed B2B companies in the mid to late 2000's.
The first generation tools were clunky (see above), but opened up a new world of possibilities for marketers willing to take the pain.
In 2007 there may have been 3 or 4 players in the marketing automation market; today there are hundreds.
by 2025, 80% of the manual, repetitive tasks will be handled by automation
The marketing technology space overall has blossomed too; growing from a hundred or so companies in 2011 to more than 7,000 in the latest roundup by fellow agile marketer Scott Brinker.
Going back to staffing technology, you can see we'll likely have the same trajectory, but not likely the scale.
Today we have specific tools for referrals, reviews, business texting, search and matching, VMS and more. These tools create new opportunities for firms. These tools then move from nice-to-haves to line items on everyone's budget planning doc.
And the biggest change for firms, undoubtedly will be automation.
Maurice Fuller, staffing technology advocate and thought-leader, predicted that by 2025, 80% of the manual, repetitive tasks will be handled by automation. This will enable recruiters and salespeople to focus on building the 1:1 relationships our industry is built on.
Internally, we've seen automation adoption in staffing firms steadily grow since 2014. Today, firms are leveraging recruiting automation platforms like Herefish to automate internal processes and external communications. This leads to better candidate, client and contractor engagement and also ensures processes are followed the same way each time.
We like to say that automation takes the activity of your best recruiters and applies it to every recruiter in the firm. It also codifies processes that can lead to bad data or bad experiences.
Takeaway We're closing the gap on the 'normal' B2B market and new platforms and products are going to continue to positively impact growth for firms.
Digital transformation, that buzz-wordy treat, is overtaking staffing firms. With newer, easier-to-use tools and a changing market landscape, it's more important than ever for modern staffing firms to adopt new tech in order to transform their businesses.