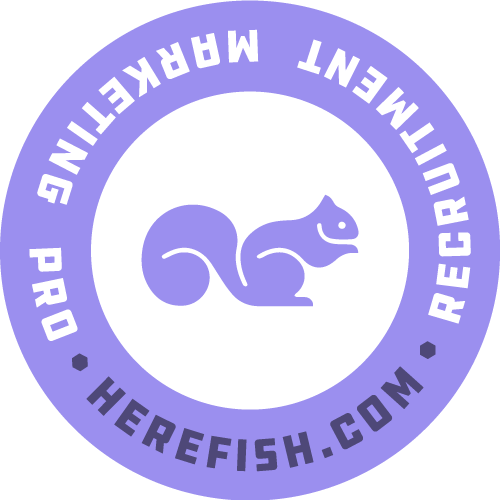 Recruiters love talking about purple squirrels: the elusive, perfect candidate so valued and so treasured that it's as rare as, well, a purple squirrel. It can lead many-a-recruiter or sourcer down Alice's rabbit hole, never to be heard from again.
In reality, great candidates are everywhere and sometimes already in your ATS…If only someone knew how to turn inactive, passive candidates into engaged, active applicants???
Enter, marketers.
When we first launched Herefish 4+ years ago, conversations with marketers in staffing agencies were nearly non-existent. For years the industry thought of recruitment marketing as merely distributing jobs to job boards and simply wait for the candidates to pour in. Times they are a changin'.
Fast forward to 2018.
As I write this…
we're preparing to intro a CMO panel at Bullhorn Engage
our main point of contact with our customers is typically a marketer
we've signed multiple clients who were using off the shelf marketing automation systems like Marketo, Hubspot and Pardot
In today's recruiting landscape, job openings are exceeding the candidates needed to fill them. This makes for a very, very competitive candidate landscape. So, how can your agency stand out and provide a better candidate experience? You guessed: marketing.
Marketing as a function
Like I said, 4+ years ago it was rare, really rare, for us to have a conversation with someone who's functional role was marketing. Typically sourcers or recruiters or an office manager were tasked with handling job distribution and social media with an occasional (often impersonal) email. Not to bash that approach, but it's become less and less effective as the market competition has heated.
While I wouldn't say marketers are prevalent in staffing (yet), I would say the increase in marketing as a functional area within an agency is rising. Spend typically allocated for job boards is slowly shifting to modern, B2B strategies, tools and processes.
If you're interested in learning more, we recently launched our recruitment marketing mega-guide where we break down the following considerations for staffing agencies.
Your brand – walk through what it means to create an employment brand that your candidates will love and will differentiate you in their minds.
Strategy – how you plan to sell your recruiting services to clients and how you'll set yourself apart to candidates.
Technology – there are a slew of tools to help you achieve your goals and stay in-line with your strategies. These include marketing automation, analytics and message platforms.
Measurement – how is it all working? What sources drive the best results? All of these questions are answerable, you just need to the tools to help you track and measure their success.
Back to Engage 2018…
I had mentioned before we're sponsoring and intro-ing a really special panel of seasoned recruitment marketers at this year's Bullhorn Engage.
The panel, moderated by Bullhorn's own CMO Gordon Burnes, aims to help the audience understand how marketing is evolving in staffing. Budget allocation, automation, candidate engagement and more will be discussed by an excellent group of panelists:
For us, it's confirmation that marketing is indeed growing as a functional area in staffing. We've seen it evolve over the years and we're extraordinarily excited to meet more marketers at this year's conference.
While marketers may still be purple squirrels in the staffing industry, they are starting to become more common and are implementing strategies, tactics and tools their counterparts in other industries use. As the candidate market becomes more competitive, we believe the time of the recruitment marketer is on the horizon and we couldn't be any more excited.
Check us out at booth #14 in Boston at Engage 2018 (and pick up a sweet purple squirrel sticker)