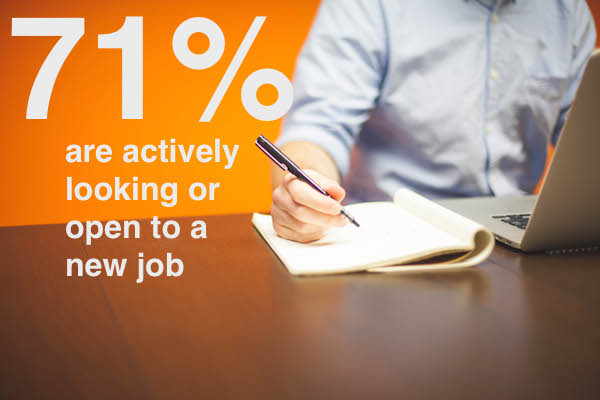 That's right, today's modern candidate has made fish food out of the old passive candidate concept. Indeed recently released an interesting report about today's "Modern Candidate," and it's filled with insights that follow a pretty basic theme…
Almost everyone is always looking for a job
Indeed's latest research research shows 71% of people in the labor force are actively looking or open to a new job. They aren't the only ones, other major surveys here and here  have found similar results in major surveys.
What does this mean? A few things:
Passive on the passives If there are only 29% of people who are "passive," why kill yourself trying to find them? Is it because they are somehow going to be dramatically more qualified for a role just because they didn't do a job hunt or click on an email from a recruiter? That doesn't seem logical and the data from the Indeed report shows that those who do look at jobs are actually more likely to be a "better," candidate. (There are a bunch of numbers to back that up, but I don't think they'd want us giving away all their numbers, just download the thing, it is totally worth it.)
Timing is everything 

Your company and your job need to be in front of the right person at the right time. When could be the right time? – The boss just yelled at you because he is having a bad day. Bob from accounting just rejected your expense report because you spent $2.50 over your daily limit by going a side salad instead of fries at dinner. You got stuck working on the project no one else wanted. Whatever the reason, we all get frustrated with our current roles and take a peek to see what is out there. Although the trigger may have been trivial, the reality is that sometimes there are greener pastures and your company is probably offering them, if you can just catch them at the right time and tell your story.

You need a story 

You need to have a compelling and different story to stand out from the crowd. Being able to rely on a strong employment brand is a great benefit, but not one everyone has it. Being able to concisely describe why what you are offering, above and beyond the role you are hiring for, goes a long way to getting someone excited and starting a conversation. If you don't have a big bad employment brand, at least make sure you have some real differentiators to working at your company highlighted in all of your communication with candidates.

Catch the active, but not committed 

So, these people are actively looking at new jobs and would like to talk to you, but they aren't all the way there yet. They might not be ready to apply or have a resume ready so you'll need to offer a way to connect without submitting a resume. Sure, you've got social, but why not do more? This is why talent communities are all the rage in Talent Acquisition; less than a resume but more than a twitter handle – this is how to catch this new breed of candidate. Remember, even getting ~10% of candidates to apply after looking at a job post is huge, this is the way to start catching the other 90%. Once you have them, you need to keep them engaged about more than your latest jobs.

The opportunity is right in front of you 

You know that big dATabaSe full of people you pay a bunch of money for? Your ATS or recruitment software is filled with gold, it is time to start mining it… regularly. Think about it, over 70% of the people in that system would be willing to look at your job or talk to you if they only knew it was there. Start engaging with these people in a systematic way.
What can you do to start engaging the "Modern Candidate?"
Today Don't hesitate to call when someone great comes up in a search of your ATS, if they are good, call them! They are very likely looking or open to looking (remember the 71%?) and would welcome a call.
Next Week If your company/department doesn't have one, put together a powerful pitch about why you really are a better company to work for – IN WRITING. You already say it, now make sure it's consistent in posts and other communication.
This month Start figuring out what your employment brand is, there are tons of resources out there to help you build them. We even googled it for you – here Also, start the conversation about getting a talent network setup and the benefits.
This quarter Get it implemented. There is a lot of confusing talk out there about "Recruitment Marketing," and "Talent Networks." It really isn't as complicated as it sounds
You have a bunch of candidates

You need a place to have someone give you some info about themselves – so you can help them and find more candidates

You need an interesting story and something other than jobs to talk about when they aren't looking

You want to communicate to these candidates regularly so you can catch them when they are looking
Here are 3 resources on how to implement, depending on where you are at:
Level 1 "Candidate marketing 101," more details about how to execute
Level 2 "Candidate nurturing blueprints," a detailed, step by step guide on how to implement a candidate nurturing program
Level 3 Contact Us – We can talk to you about how we suggest doing this or if you would prefer someone else does it, we can just go ahead and do it for you. Here is an overview of what we offer.