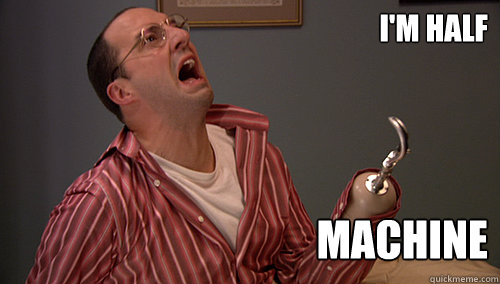 A couple of weeks ago I attended the StaffingTec conference in Seattle, WA. It was a two day affair crammed with a lot of meetings, panels and sessions on how new technology can augment the recruiting process. While there was no official theme of the event, one thing stuck in my head; humans are part of the recruiting process and always will be.*
It's a concept that we at Herefish share – technology can automate things that a normal human wouldn't be able to do in a normal day. Things like sending follow-up emails to applicants, reminder texts to interviewees and notifications to recruiters should happen. In the background. Forever.
Sometimes though we humans hear about AI and machine learning and think the future workforce, and the people who PLACE the future workforce are all but doomed. Not true.
While robots, machine learning and eventual AI can assist us primitive humans, they'll never (at least now) be able to truly understand the nuance of human behavior. How many robots have you met that could prep you for an interview with Diane, the hiring manager, and her proclivity for Beanie Babies and all things Michael J. Fox?
You see, recruiting is and has always been about relationships. Relationships between a recruiter and candidate. Relationships between account managers and HR. Relationships between payer and payee. You get the picture.
Our take is that recruiting will actually start adopting MORE technology all-the-while building relationships with candidates and company contacts. Rather than tech overtaking a staffing agencies role, it will enhance it.
To put it in a very sci-fi way, think of the future of recruiting as a cyborg – part human; part machine. The machine can handle the mundane while the human can handle the relationships and interaction use humans crave.
Ready to plug into your new cyborg features today? No sweat, there is tech available now that can help foster better relationships without overwhelming you with a bunch of new work.
What will the recruiting industry look like in the future? Tough to say for certain, but with the current trends and the fact us humans still hold the keys to great relationships, we think cyborg over robot control will win out in the short to mid-term.
*unless Google creates a true AI that figures out humans are better batteries than companions…we'll keep our fingers crossed.