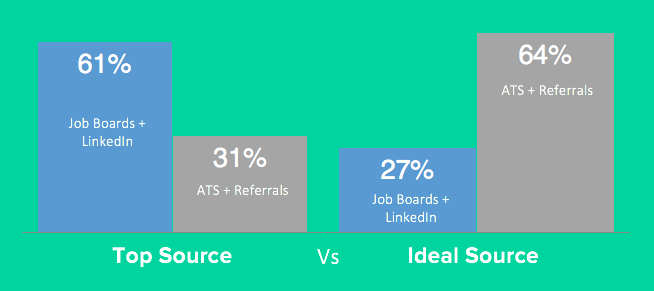 Finding enough qualified talent is almost definitely the number one problem that modern-day recruiters and employers confront. Let's face it – the perfect candidate for an open position is a tricky fish to catch. The most successful recruiting firms will be the ones who find ways to build better relationships with their candidates and clients.
In order to understand the current state of how staffing firms are building these relationships, Herefish surveyed almost 500 staffing and recruiting professionals across industries and skillsets to find out how they engage with their candidates and what results they've seen. So, like a Steve Harvey-less episode of Family Feud, let's see what the top answers were.
There were many compelling take-aways from this survey. The clearest opportunity for staffing firms to address the talent shortage is the correlation between firms who proactively engage and their top source of hire – they are 63% more likely to report their ATS as their top source of hire.
By not focusing on building better relationships with the candidates in their database, Staffing firms are relying on outside sources to provide them with what is ultimately the most important part of their value proposition – the talent. Although the ATS isn't a replacement for job boards, the results from this survey reveal an opportunity for candidates to be more strategically leveraged.
Current Vs Ideal Sources
Job boards and LinkedIn provide a steady flow of candidates actively seeking a job, which is likely why so many firms rely so heavily on them. The downside to job boards is that these candidates are the exact same ones that their competitors have access to. This increases the competition for these candidates, resulting in bidding wars, extended negotiations, calls/emails not returned and ultimately a power shift to the candidate. You're all grabbing for the same slice of pizza, and the pizza knows it.
The double edged sword of the job board is nothing new, and staffing firms understand this challenge. This is likely why even though their current top source of hires is LinkedIn and job boards, they responded quite differently when quizzed about their ideal source. This turned out to be their database and referrals:
"From what source do you currently get the most Hires?"
Job Boards – 37%
LinkedIn – 29%
ATS – 18%
Referrals 17%
"Ideally, from what source would you get the most Hires?"
Job Boards – 17%
LinkedIn – 14%
ATS – 34%
Referrals 35%
Staffing firms are almost twice as likely to state that their ideal top source of hires is their ATS and Referrals. Today, however, the top sources are job boards and LinkedIn. The survey finds that staffing firms would like to have the two sources simply switch places. Is it just wishful thinking though? In an ideal world I'd like a catwalk model to hand me chocolate every time I cough, but I have to remain (unfortunately) realistic about that prospect. So can these firms flip their top Hiring sources? And if so, how?
To find this out, we looked at those who have their ATS and Referrals marked as their top source of Hire. What do those firms do differently?
The trick, it seems, is to be proactive.
The survey shows that staffing firms who proactively engage with their candidates are 63% more likely to have their ATS be their top source of hire and 56% more likely to have it be referrals.
Taking a proactive approach.
It isn't surprising that candidates are more receptive to firms who are regularly engaging with them. An offer you can't refuse is always more tempting coming from your lovely uncle Don Corleone than it is from some uncle you haven't heard from in years. This helps to build a long term relationship, keep their candidates warm and possibly most importantly, know when they might be ready for an opportunity.
Firms who proactively engage with their candidates are:
63% more likely to have ATS as their top source of Hire
56% more likely to have Referrals as their top source of Hire
80% say it is valuable to their business as a whole
83% find their ATS data valuable
136% more likely to engage with candidates at least quarterly
When asked about the methods used to proactively engage with candidates, email was noted as the most effective method, however most firms don't do it on a regular basis:
"What has been your most effective proactive engagement method?"

Email – 59%
Phone – 27%
Social – 12%
Text and Other – 2%

When asked "Does your company send emails to your candidate pool on a regular basis?"

32% of companies say they DO send emails regularly
Companies with a marketer are 86% more likely to send emails on a regular basis

84% of respondents say email marketing to candidates is or would be valuable.
Marketing's role in staffing
Despite the obvious benefits, the reason so many staffing firms don't proactively engage with their database could be that this type of proactive communication is generally handled by marketing.
The survey found that staffing firms are generally quite shorthanded on marketing resources – only 44% have a full time marketer or marketing department, and an incredible 14% don't market at all! I can sense that there are a few marketers' eyes twitching at that little stat.
When there isn't a full time marketer on staff, the functions of marketing fall to busy executives, operational employees or even recruiters and salespeople. When we look at the rates they engage with candidates vs. contacts, we can also infer that much of this limited resource is focused on client communication.
Findings related to Marketing's role in staffing:
44% of firms don't have a marketing department or anyone who handles marketing full time

This percentage is fairly standard across all size firms, until a firm has over 100 internal employees.

If there is no marketer, that function is handled by:An Executive – 38%

An operations employee – 21%
Recruiters or Sales – 19%
Firm does not conduct marketing activities – 14%
Outsourced – 8%

Proactive engagement – there is more of a focus on the client side

83% of firms proactively engage with contacts
52% of firms proactively engage with candidates

We also looked at some of the key activities that might fall under a marketing department's purview and compared how often those activities are done if there with and without a "Marketer."

Send emails to candidate pool on a regular basis

with marketer – 41%
without marketer – 22%

Regularly create blogs or other resources

with marketer – 74%
without marketer – 35%

Have a formal referral program in place

with marketer – 73%
without marketer – 52%

Post to social media at least once per week

with marketer – 74%
without marketer – 52%
The future?
Considering 61% of firms state that the "talent shortage" is their number 1 challenge and the clear positive outcomes confirmed in this survey; it would seem obvious that this will be the point where staffing firms start to invest in building relationships with their candidate pool. It'd be pure oversight not to. The staffing firms represented in this survey have clearly found that it increases the likelihood that they will make more hires from areas they have identified as ideal while distinguishing them from their competitors. Proactive engagement equals dollar signs, people.
The tactics will vary, but it is likely that the staffing industry, like most other industries, will find that intelligent, personalized communication combined with targeted follow-up will have the greatest ROI. It's a recipe that even the most novice of recruiting chefs can follow.
For more tips on how to create a candidate engagement strategy, check out our resources, all of which are focused on helping you build the ultimate candidate engagement machine. If you are one of the many firms who are short-staffed in the marketing department, contact Herefish today to learn more about how we can help!