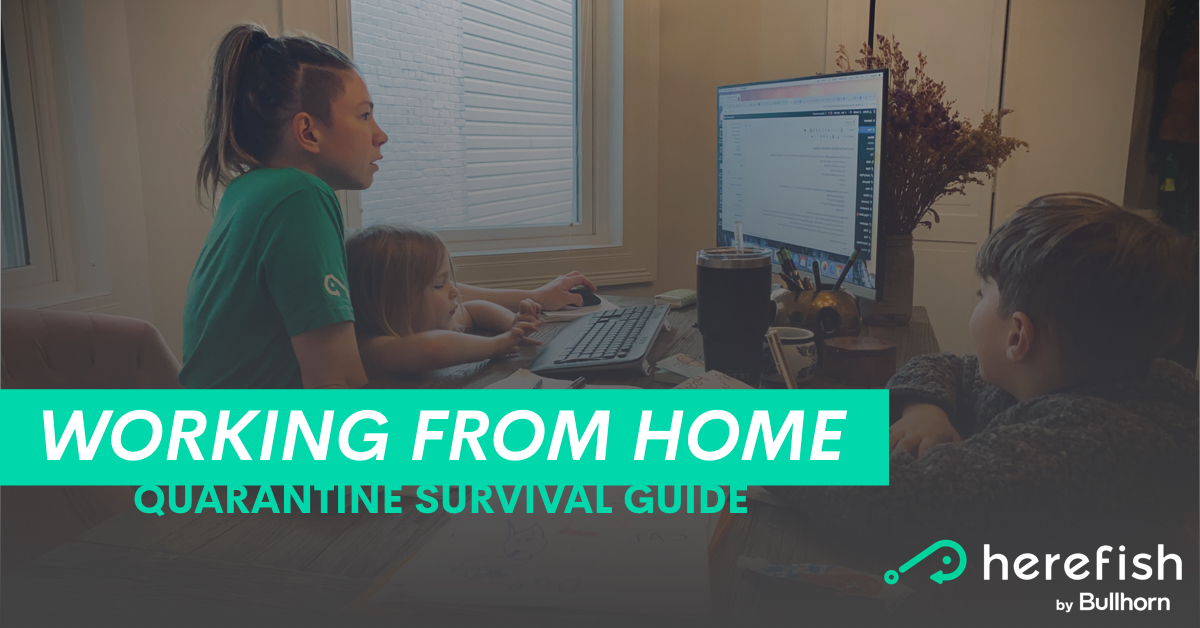 Survive working from home with kids, dogs, partners and parents: practical tips to balance work and life in confined spaces (AKA the #quarantine)
If you are over the age of 30, you are probably not getting to enjoy the work from home lifestyle we see on the 'gram.
And, unless you are working part-time or not at all, your working-from-home-with-kids schedule probably does NOT look like that of these overachievers.
More likely, you are just trying to survive and keep all of the plates spinning.  Luckily, there are tons of inspiring folks out there working to keep us motivated, entertained, and (hopefully) laughing a lil' bit.  Hey, maybe we will all learn something, too.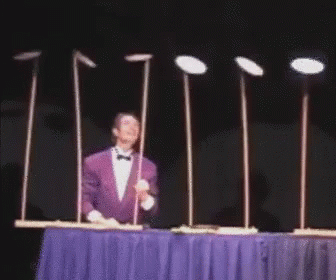 Need a lil' laugh before we continue? Check out these memes from Buzzfeed
OK. Let's dive into some tactical tips that you can implement before the anti-virus is released.
Surviving WFH with Kids
I'm not saying you have to totally ignore Karen's suggested schedule from your parents' group text.  BUT, maybe take it with a grain of salt.  Also, it's ok if your kids do at-home, independent activities that stimulate their creativity and brains.
Bullhorn's Jonathan Bedard has actually cleared out a room to make space for an in-house bounce castle. This serves a couple of purposes: it keeps his small children entertained and lets mom and dad focus on work during the meat of the day. Just be sure to have a stack of Wheat Thins and cheese sticks handy when the troops come in to resupply.
Find what works for your schedule. Don't worry about letting them play during the day then tackling that "home-school" assignment after you are done with your workday.  Maybe even shift bedtime a little.  We are in this for the long haul, so you aren't going to screw up their routine any more than spring break or vacation would. In the words of my own mama: #youAreNotaBadMom #survivalmode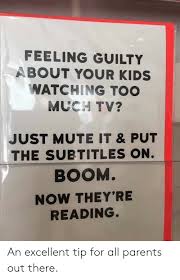 How to Keep The Kids Busy (and Maybe Learning)
Have the children develop a play to perform for you at the end of the day (or at 2pm while you have a margarita, no judgies).

write the storyline, scripts, and songs
design and build set and props
put together costumes
practice and memorize their lines
perform
cleanup
Invest in those learning apps (and maybe disable YouTube Kids for a couple hours… if you're feeling brave)
Get active in the basement/yard/living room/grand ballroom

Encourage kids to build an obstacle course.  Run a timed contest at the end of the day with prizes (extra TP, screen time, food rations)
Have them do a kids yoga or workout video.  Cosmic Kids Yoga has TONS of really fun, themed yoga videos that my kids actually love
Break out the karaoke machine and have them sing and dance to their favorite jams
Have them create a chore chart and do some chores (bribe them with extra TP, screen time, food rations)
Stir up some creativity

Set out some art supplies (maybe skip the paint or markers) and let them go to town
Have them write and illustrate their own book.  (topic suggestions: favorite vacation, holiday, trip to the grocery store, birthday, school day)
Ask them to write and perform a song or rap about something they love. (topic suggestions: favorite food, toy, friend, outfit, game)
Encourage them to write a letter or letters to someone they miss during #quarantine
Enjoy the extra family time

Read together and have your child read to you
Cook and eat dinner together
Stay active together with walks, yoga, pushups, dancing
Host family game nights with kid- and adult- friendly treats
Have a cook out with yard games (play cornhole, throw a football, beer/juice pong, cartwheels, you get the idea)
Surviving WFH with Pets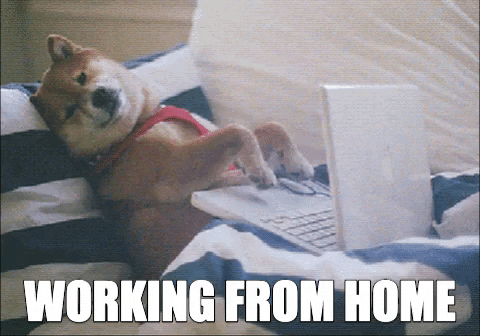 This one's a little less challenging, but still very important. Our four-legged babies have needs too, and seeing you home every day is totally throwing off their nap schedule!  Here are some tips on how to cope:
Put puppy in lap, work

Your Zoom attendees will love it and your puppers will get some time in the limelight.

Take calls on the go while walking your dog (or cat, whatever)

At Herefish we have a regular noon walk routine, so keep it going and invite your work friends.

Hide bundles of toys and treats around the house that the pet can hunt for and break into

Who doesn't like a good game of hide and seek?

Have the kids give the pet a bath (this one is adventurous)

Just take down the shower curtain, sharp objects and you should be fine.
Surviving WFH with Spouse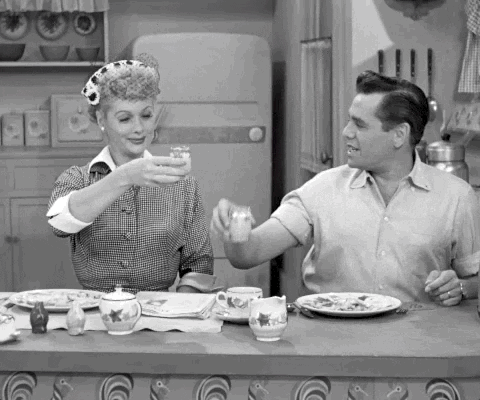 Why. TF. Are. You. In. My. Office.
Just kidddddddinggg, babe.
Working from home together sounds like a dream.  Until reality sets in after about 2 hours.  Here are some tips on how to make working from home with your significant other the dream you always wanted it to be.
Take turns being the coffee maker in the morning.  No one doesn't love having their morning joe delivered to them at their desk/couch/bed
Take 5 minutes to talk through your schedules in the AM

when your conference calls are scheduled
when you have breaks and can help with the kids
what your lunch plans are
when (and how) you plan to workout
if and when you plan to leave the house

Schedule some fun breaks together during the day

have a coffee/tea/coke zero and talk about non-bullshit for 15 minutes
go do it
workout together
while you're at it, shower together, why not?
send each other snaps and memes from your respective "work spaces"
start your own slack channel
host your own happy hour with specialty cocktails, snacks and ideally a view
jam out to some tunes for 15 mins
break out those face masks you've been hoarding and #spaday

See above, Enjoy the extra family time
Surviving WFH with Roommates
Stop complaining.  You have friends.  Just kidding, but seriously.  Oh, and stop using all the toiler paper, Brad.
It's also a good idea to get on a level playing-field with your roommates. Since the bars are closed, that doesn't mean your casa becomes the new neighborhood haunt. No more 'having friends over' which turns into the next 3am rager.
Surviving WFH when you are an Extrovert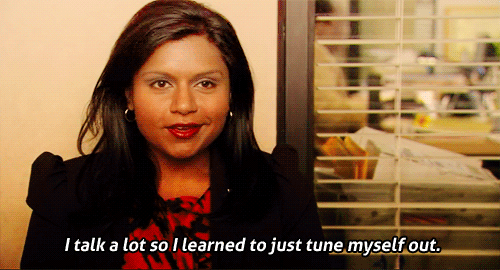 Some people are totally cool with staying home indefinitely.  We've all seen the memes about how nothing has changed for these cozy little homebodies.
BUT, what if your normal schedule isn't binge-watching Discovery Channel and cooking vegan meals from your home garden?
What if…. you like going out?  And by "out", we don't mean like 2009 and going out-out to the clurb.  We mean like, out to Target, out to the park, out to the gym, out to dinner, out to the movies.
What if you like meetings and interacting with coworkers?
Basically, if you like getting out of the house and collaborating with (or looking at) other humans, here are some tips for coping during quarantine.
Make the most out of work time:
Now is a great time to utilize virtual collaboration apps like Slack, Google Meet, Zoom
Host meetings with your spouse/roommates/kids and bounce those brilliant work ideas of each other
Attend webinars and interactive virtual learning events
Turn phone calls into video calls (everyone is in their jammies, it's fine)
Take some time to network with people in your industry or in similar roles
Participate in posts and convos on LinkedIn (or whatever your relevant social-work channel is)
Start a work-related group on LinkedIn
We think there is more to surviving working from home than just surviving the work day.  So, here are some tips for your WFH extroverts for when that happy hour bell dings.
Make the most out of free time:
Host a virtual happy hour or wine night via video conferencing (TIP: keep the party small so people can talk as a group, like 3-5)
Make a to-go coffee and go walk around the block/neighborhood
Call your friends randomly out of the blue (TIP: they won't like it, but it'll be good for you both)
Plan a virtual group workout class with some friends or coworkers
FaceTime your mom (or dad or sibling or anyone you find comforting)
Have a house party with your spouse/roomies/kids (TIP: break out the karaoke machine, music videos, solo cups, pizza rolls, dance moves)
Plan a movie night with all the essentials
Host a game night with board games/poker/charades (TIP: make a special snack mix, playlist, cocktail)
In Closing
Working from home can be a blessing and a curse.  Add to that the additional challenges of being in quarantine with kids/spouses/roommates at home, and it can be hard to imagine how we will do this for the next few months.
We hope this article gave you some usable ideas on how to deal and make the most of this era.
If you'd like to contribute any ideas or suggestions, definitely shoot us a message so we can add it!
Cheers, everyone!  We're going to make it. 💪