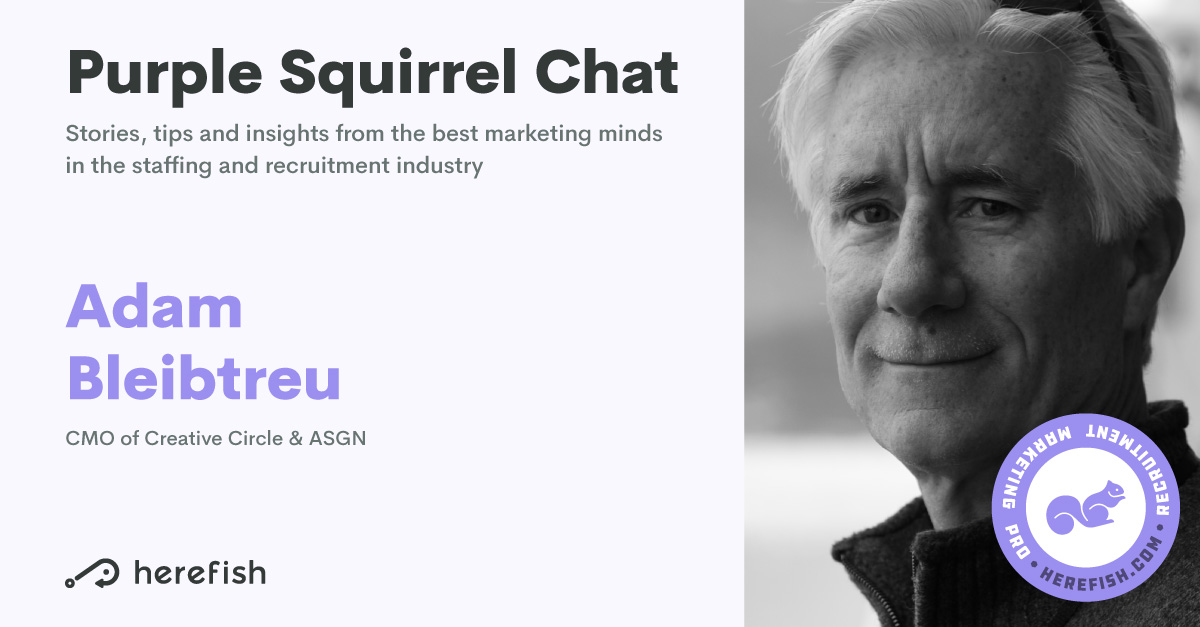 Nothing says recruitment quite like Purple Squirrel. So, it only made sense to call our new series where we interview successful marketers in recruitment… wait for it… Purple Squirrel Chats (clever, huh?). We'll be interviewing top marketers in the space to hear their stories, learn their tactics and understand how they measure success. Oh, and if you'd like to stay in the loop, you can subscribe to email updates here
Today we're talking with Adam Bleibtreu, CMO of Creative Circle and it's parent company ASGN. Adam has an extensive background in media, advertising and marketing and has taken that skillset and applied it to staffing. He's an expert building brands, launching products, developing and executing marketing strategy and making a good cup of coffee. Ladies and gentlemen, Adam Bleibtreu.
(Applause; fanfare; hip, hip, hooray!)
How'd you get your start in marketing?
I took an intro to psych class freshman year in college and began to learn the fundamentals of Pavlovian conditioning. That was the lightbulb moment.
Interesting, so essentially transforming behaviors?
Yep
What does your current day-to-day look like at Creative Circle and ASGN?
My time is divided between managing people and processes along with building and executing against strategic plans. Otherwise known as 30% emails, 35% phone calls, 15% putting out fires, 10% people/team management, and executing on Monday's ten must do list.
Sounds about right. Shifting gears a bit; how important is the candidate experience at Creative Circle and ASGN?
For Creative Circle the candidate experience is of critical importance because the supply is always higher than the demand. It's extremely important to treat all applicants with dignity and respect, regardless of the "fit" for a specific job. At ASGN we focus on the candidate experience across all of our Companies.
Treat people as humans. Respect the applicant and referrals will flow in.
What do you see recruitment companies doing right and wrong in terms of marketing?
I see very little data driven initiatives. I see unrealistic expectations for direct ROI on every campaign. I see very little industry branding – no one is celebrating the fact that we as an industry put hundreds of thousands of people to work weekly. I see marketing gaining a little more "understanding" as time goes by. I'm seeing initial successes in stronger relationships between sales and marketing.
What can marketers in staffing agencies learn from marketers in other industries?
The human condition is universal, the emotional drivers of a person don't change by product or industry. Communication channels change, intent varies, but we are all still people. So great story telling will always win.
What do you think of the current recruitment marketing tech landscape?
There is too much noise, and too many technologies to have any kind of a "winner". AI and ML will continue to accelerate at the speed defined in Moore's law. So the technologies will far exceed our capacity to properly deploy them. Candidate onboarding and helping guide the initial application/on boarding process are easy early wins. Using technologies to "match" talent and lessen "bias" will be a great next step.
What are your thoughts on automation?
One piece of software can do the work of many [people] but it needs to be utilized correctly. First and foremost, start with the persona of your target audience. Who is your candidate? And what type of experience do you want them to have? This persona development will help to guide the rest of your candidate strategy and be the guidepost for automating key interactions with your brand.

From a marketing standpoint, what mindset must the recruiting industry adopt to succeed in a candidate-driven market?
Treat people as humans. Respect the applicant and referrals will flow in.
Anything else you want to add?
It's not that hard, all we as an industry need to do are: find a client or get a job order, fill the order with a qualified candidate, get the client to "buy" from us again.
A heartfelt thanks to Adam for taking the time to speak with us. He's a very interesting guy and you can connect with him on Twitter at @adambleibtreu or on Linkedin. Would you or someone you know want to be featured on Herefish as a Purple Squirrel? Simply shoot an email to marketing@herefish.com and we'll get in touch.