Deeper dive
---
We recommend a series of customized touches triggered by initial survey responses.
Create a list in Herefish that looks for clients as they make a placement (or hire).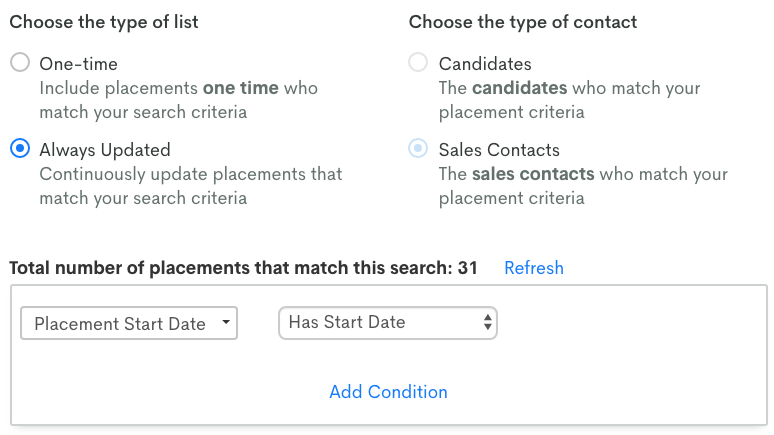 2. Once someone matches the above criteria, Herefish can trigger an email to the client contact with a post hire survey request.
Hello %FIRSTNAME%,
 
I wanted to connect quickly today to touch base and see how things are going with [ENTER YOUR COMPANY'S NAME] from your perspective?

If you could take a minute or two to send us your feedback via this survey here, I'd really appreciate it.

We are thrilled for the partnership and want to make sure that you are happy with our progress every step of the way.

Please feel free to reply back to me or schedule time for us to chat here.

I look forward to touching base with you soon.

Sincerely,

%OWNER%
%OWNERPOSITIONTITLE%
%OWNERPHONENUMBER%
%OWNEREMAIL%
3. Check out some additional ideas (and earn bonus points) to make this workflow work even harder for you.
Bonus points
Customize survey questions and/or followup content by other factors like job title, geography, facility type, etc
Send a text followup if survey is not completed after 2 days
If survey results are negative, schedule an immediate followup call task for the contact owner
If survey results are positive, schedule a content and/or order request email to go to the client 2 weeks later
Send a notification to the contact owner when a survey is completed
Adjust the client's score or status based on survey answers
Add note to client record when a survey is completed